Happy Wednesday, my gorgeous whips of lick festival! That's it. I'm on holiday mode. I'm feeling the chicas and shaking the maracas and booty grinding to my mirror image, to any 'holiday memory' song that will have me.
I've worked so so hard this year and in fact all of last year…I've worked so hard… I could die. I've jiggled and juggled and mummied and selfied. I've wiggled and waddled and written every piece of my life out for my own settle of mind and for your own delicious entertainment. There's been great times, hard times…jollies and stress…Right now, I don't care….Get me to Spain. I fly tomorrow morning.
I AM NOT IN PANTS. SAFETY LAST!
In fact, if i'm being honest, i'm currently sat up in bed blogging and feeling ridiculously IMPRESSED, with how WELL my tan has developed from last night. Yes, I know I'm Asian and already tanned. Yet, before a bit of 'bikini' and because i'm a bit of a Glamour Puss…
*Flashback* Guy: 'Everyone wants a shot at the glamour puss.'
…I do like a quick fake over, to make my tan McJuicy. I used the Model Co, 'One Hour Tan Mousse'…
and I'm always really skeptical about fake tans, because I always figure they're just gonna wash completely off and not be dark enough for me. But i've woken up impressed. So GET ME TO SPAIN NOW.
I couldn't sleep all night. I don't know why? I've flown a lot, but I don't like flying and airports stress me out. I was up at 4am stroking 'Rocco' my kitten (that sounds rude..it wasn't that fun….that 'stroke' was yesterday 😉 ) and did what I normally do, when I can't sleep and that is..
GOOGLE EVERYTHING. (Apart from myself. I hate doing that because all the pictures are really old and cringe.)
So, on my Google agenda at 4am, was every celebrity…'on the beach.' Lol. (Yes, I am that sad. Some people Google 'World Peace,' I Google 'beach bodies' and I'm okay with that.)
I went with 'The Kardashians' obviously, as they calm my soul in bikinis at 4am, when i'm stressed. I even watched an Oprah interview with them all.
Then I don't know how I got onto it….(I Googled it 😉 )….But I ended up with 'Cristiano Ronaldo on the beach' shots. Lol. AGAIN, what a good find at 4am in the morning….It was SO good that I may have become moderately obsessed with his beach shots. I found myself rating his 'old school' look, against his 'new school' look.
HAHAHAHA. Why am I a tool?
This is why I need to sleep. This is why I need to grow up. This is why my 7 year old daughter Ruby says,
'Why does everyone else at school have a normal Mum and I have one that's like a teenager. You're like a child.'
The most hilarious part of this Google search was that I ended up at this…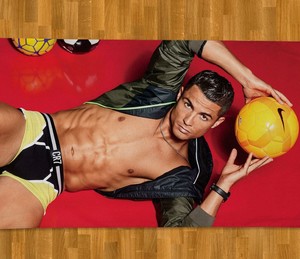 The Cristiano Ronaldo beach towel on ebay. Lol. It could be yours for the bargain price of 30 quid. So I did what any normal girl would do…(no, I didn't buy it…which reminds me I haven't packed a towel for my holiday yet,) Instead, I *screenshot* it and Snapchatted it to my girl bestie 'Firmonnell' who I was messaging last night, with a caption that read…
'Nothing makes me happier than this towel… Happy Morning!'
The good thing about 'Firmonnell' is that she knows I'm an absolute plank, and will just go with it anyway. (Probs because I can get us free cocktails.) And she replied this morning with simple 'laughy face' emojis….meaning..
I MAKE PEOPLE HAPPY. (And that like any other normal human being, she can't be arsed to type before 7am.)
I'm an early bird, so even if I CAN sleep, i'm still up at the crack of dawn. I like to get the most out of my day. Like, I honestly don't know how people 'sleep in' until noon and slob about eating bacon sarnies, whilst trumping, wondering where life has gone.
Am I in Spain yet? No? Okay cool…
Right, technically, I should take this moment and I do want to take this moment to…
THANK EVERY SINGLE HUMAN AND OR COMPANY…
..That has send me a treat for my holidays. I have been inundated with gifts, products, services and from brands all over the land…and I honestly couldn't be more grateful. I really, truly appreciate it and I can't believe how lucky I am. You've made me feel really special and in return, I'll blog, picture and snap the 'jollies' out of your products, whilst I'm away. Thank you ever so much. Honestly…I will make sure that they are all over my 'socials' throughout my time in Spain.
Here are a couple of my treats from companies Mirror Image Style (mirrorimagestyle.co.uk) and @Mishmashfashionuk (mishmashfashion.co.uk) 
Thank you so much. I've tried them all on and they are divine. In total I have 22 bikinis….and you'll all be rocking this blog and my socials shortly. I'm gonna look 'Queen' because of you.
I've literally spent the last entire week in bikini fitting, after bikini fitting. Followed by hair piece fitting, after hair piece fitting….It's been crackers. Yet, I appreciate it all. I feel so lucky. (It makes an old bird smile. 😉 ) 
I also want to thank 'Pitstop Rentals, Leeds' (they're actually everywhere, all over the North, not just in Leeds) which is a LUXURY/PRESTIGE super car rental and chauffeuring service. I love them so madly and well they will 'new whipping' my arse to the airport.
But you'll all see pictures of everything…as I'll be placing them everywhere. Make sure you're following my 'social's and stories.'
The diets been going well…I'm still Herbalifing and i'm on Week 4. My body's changed quite a lot and i'm enjoying feeling a little bit more in shape…and at 37 with two babies…who flipping doesn't. It's given me a new lease of life. It made me feel really great! So, i'm certainly doing better for it. I did have someone 'hate' on me for doing it, yet mainly because they wanted to indirectly promote their own  fitness/nutrition brand all over my wall….
I'll tell you now. The best way to promote something, is not to 'hate' on something or someone else, and place it all over a seemingly popular persons wall to gain audience. As soon as you do. I'm not interested. And I understand that it wasn't the brand itself, it was someone trying to promote the brand…Yet, they properly went about it, the absolute wrong way. I mean, they even 'hated' on the person or people who introduced me to such….and you don't even know who that was?
I'm a glamour puss. We're not rude around here. We're real…in diamonds. Let's play bouji.
Bottom line, the reason why I decided to initially Herbalife was  simply because I saw a body transformation selfie on the Insta profile of a really good friend of mine. He looked amazing. In fact really great. I was personally really impressed….I was SO impressed that it INSPIRED me to want to get back into shape and start feeling extra great.
I spoke to that person…and they helped point me in the right direction…that's how I ended up here.
Life works via word of mouth, or by the way you choose to cultivate a rapport, with someone. They didn't 'hate' on my wall to promote something because they didn't have to. They're classier than that. Instead they showed their own result…which celebrates an achievement..which ended up with ME *tapping* on their door with a 'help me.' By all means, mention someone and be lovely about them…Everyone adores that….Yet, just do things correctly….It's classy and sassy baby boo.
SIMPLES….
It's funny because I always say, that everything in life, is all about how something makes you FEEL. Nothing more… nothing less.
We react to how the littlest or even biggest things MAKE US FEEL and the only things that can truly make us FEEL, are other things that can FEEL also.
A bit of a preach there for you. 😉 I'm not saying lets all be kind to one another and wear party hats, whilst we sway to boyband love songs. That's not human nature. We're all different.
What I AM saying, is let's be flipping REAL here, instead of dickheads.. Bottom line, don't hate on another brand on my wall, simply to promote your own. 😉 It is definitely bad manners.
Hahah. I'm over it now. Life was better when I was Googling Ronaldo beach towels at 4am.
I love life. I adore experience. To me, it's what life is about. And yeah I've done some really outrageous things, during my existence so far, that have placed me in really sticky situations. (But I definitely blame the boogie and Hollywood for them. A tremendously surreal place to grow into an adult.)  I've always been a ballsy one, a life liver, a wild one, who is never afraid to 'DO ME.' And yes, i've definitely mellowed out at 37, when it comes to the wild antics, yet not when it comes to TRUE SPIRIT. I'll always do what i love and what I want. And I never feel like I want or need to explain or justify them…as I'm living my own version of life.
When life dishes out crazy bad/exciting times, and you get caught up with the fine art of mistake making… (I did this a lot in my 20's and I am proud to say that I haven't mistake made in YEARS now..) to me it's all about the LESSONS YOU LEARN. And if a real lesson HAS been learnt, than I am pretty fine with having that experience. I don't worry about how I got here. I concentrate on where i'm at now….
Everything happens the way it's supposed to…and we always find out why in the end…
GET ME TO SPAIN!
Here's a tune to put you in my Holiday mood. (I did all my fittings to this yesterday, as the children made Zebra's, which Junior still thinks is a Giraffe out of random Wunna Land. Arts & Crafts bits.)
I might not have chance to blog before I land on Spanish soil tomorrow afternoon…So please do follow my 'Socials' and Stories.
Love you lots,
Chrissie x