Good day! Great day! Officially hate sand pits. No being that I will ever decide to 'tango' with, will EVER own a sand pit. Awful fricking things! I've never cleaning one up again! (JENNA!!!)
Bought sight, laughed hard, felt pretty rebellious today and when i'm rebellious i'm at my finest. I'm silly by nature. Code for 'foolish.' It's a fun way of decorating the word 'foolish.' Yet at the same time, sharp as nail. That's what's good about me, i'm a dolly bit of everything, in one  jiggly box of magic tricks.
Like I said, I'm on a count down…it's all getting both exciting and 'happy/sad' to be leaving a place, as time seems to be flying. I'm going to be a chipper emotional wreck, but i heart being filled with love and excitement right now, as i strut into a new chapter. Sometimes the smallest step in the right direction, ends up being the biggest step of your life. That's what i'm going through right now. It's crazy…but right. It's scary too!
That 'Sailor boy' is showing his age by messaging me almost every ten minutes, about things that someone ten years younger would message me about. I don't mind 'all the time,' it's the content that makes a difference. The gesture is nice, and i like that he is obviously very attentive. But i don't know him at all…and even though i'm one to love any guy who is not afraid to take the initiative, grow a pair and 'Cupid arrow' at his hearts desire. His age is showing…Lol. I've had to tell him off and guide him twice today. But just like that, be immediately took note and went with it.
Incase, you've lost track. This is the Yatch sailing, ten years younger, money guy, who wants to fly me to Bermuda for a first date. He's innocent like a puppy. The Doctor was more mature, but with a his loins on fire. (Evens out to be the same thing really.) I've refused to fly to Bermuda for a first date. I'm working. I'm busy. I have the children. I don't know him well enough at all. He's persistent..and has been for two years! So, in order to make sure that he has this in the bag and that i KNOW that he's interested he asked me today if he could fly out to Yorkshire, to go on a first date WITH ME. Yeah…all the way from Bermuda. He's not even joking. He wouldn't be back in the UK until September, by then he believes that i may have a boyfriend by then. He doesn't want to risk it…today he asked if he could fly out here, to go on a date with me.
I mean, I like that he'd do that…and show that he's willing to put in all the effort he can to have 'Wunna' on his arm. I get it. But, it sort of makes me feel bad, as what if he does that and i don't like him as much as he wants me too??? Well….It's a big deal. I mean, we'd get along as friends anyway…as i get long with anyone really, even if they're a plonker. We'd have a great time and i'd make sure he felt comfortable and had a wonderful experience. Yet that's a very big thing to do, right? Yes, I'm flattered…but i'm not in a *swirl?* But he scores points regardless. I'm not head over heels, as I simply don't know the guy! But if he does do the above… then i'm impressed…and i like to be impressed don't i! It makes my eyes *smirk* with sexy and I smile like i've won all the prizes in all the land. I'm just a girly girl, so i like to feel impressed by a boy. It makes me blush!
Infact, I once had a guy do that for me before…Jake, in LA, who came to see me from Palm Springs. Let me see if i can find a picture? Wait…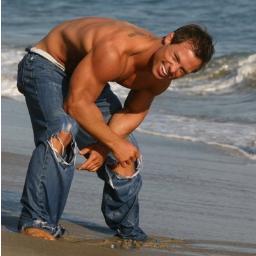 Anyway, I'd been talking to him, om Myspace at the time. Lol. Shows how old i am. I met up with him because he had decided to come to LA to go on a date with me and when he got into the cab, the first thing he said to me, many..many moons ago, was 'God! You're even more prettier in person.' Aww! 🙂 We hung out for a bit and i even went to palm springs. We never dated, but i'm still good friends with Jake to this day. He's a really great guy and i love good people. I probably should've dated Jake  in my 20's, as he would've stabilized me a bit more. But he made HUGE amounts of effort to make sure I knew that he cared. So, this time, i'm not shunning any boy who makes any form of effort. (Provided I fancy them, of course. 🙂 )
I love how i've gotten away with so much, amongst the Hollywood boys. I've been missing LA so much and wanting to move back. All i've done over the past few days is wallow in nostalgia. However, i always say that when you do that, it's because you don't have anything 'going on' in your present. But i'm over it now. I feel really 'Yorkshire' today and i'm loving it. As if a boy once let me set a pitbull on him and smash all this plant pots. Lol. Another let me sell him for a stick of gum to one of Janet Jackson's backing dancers. Another…well you get my drift. Good times…fond memories…the LA Guys are less sensitive though. They can take an emotional *crack.* I'm still REALLY good friends with them all. It's hilarious. But like I said, we were in our 20's back then. Now we're all nearly 40. Time is a great healer.
Anyway, enough about all that! Work was amazing today! I watched Jenna (who i'm adoring on my last couple weeks, days or whatever,) 'Boss' a giant green umbrella with deers on, in the rain! LOL. I actually thought she looked cute with it. But i would wouldn't. I'm dangerous territory when it comes to taste. Yet she rocked it. I'm gonna miss her. I can't even talk about all that right now as it makes me 'totes emosh.'
Again, this is a pre written blog, as i'm waiting for the website to 'air.' So i'm on April 28th right now. It's a Thursday. It's almost the weekend and it's Cloughey's birthday tomorrow.
Byee…..